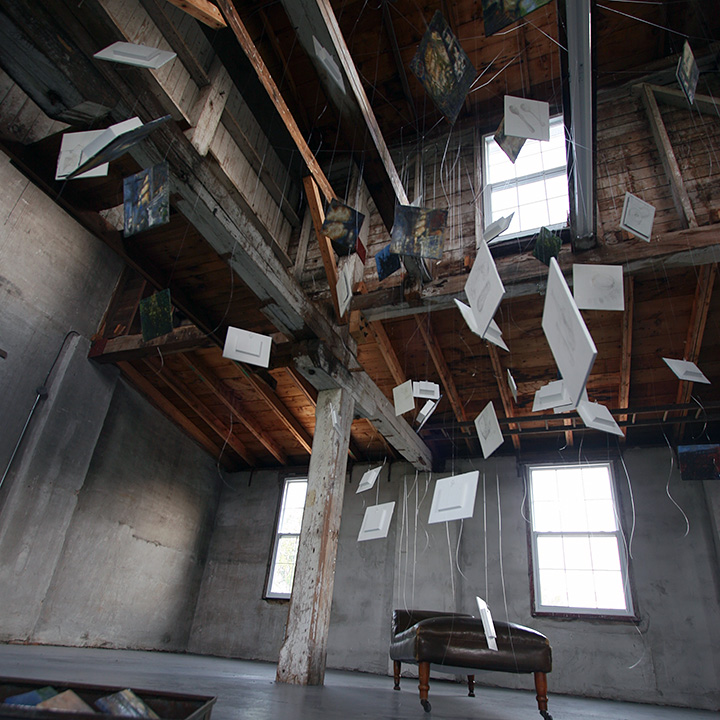 Into the Living
2009
A fifteen-year survey exhibition comprised of elements from eight different installations.
" I think she should bring several installations to the Mill gallery as well as her new work in progress for the third floor loft. After all, the stories are too interlinked for us to think of breaking them apart. They edge towards an interlocking of rooms/dwellings, landscapes. The interior/exterior spaces transcribe a living topography into Theatres of Memory."

—Maralynn Cherry, Curator, Visual Arts Centre of Clarington
The main floor gallery show-cased:
Encaustic on slate pieces from Antarctic Chronicles, (1998);
Two video installations —Another Kind of Dance, One and Two, (2008);
Dancing in a Northern Kitchen (1995 -2003);
Bookworks from Things Conspiring to Tell the Whole Story (2003) and Odes to Anatomies (2003);
Wood-work from Forest Stories (1995).
The third floor loft housed The Whole Real Moment (2003) and
Eternity Behind, Eternity Before, (2006-ongoing).
Into the Living was supported by the Ontario Arts Council.
Photo Credits:
Jean-Michel Komarnicki and Matt Stimpson