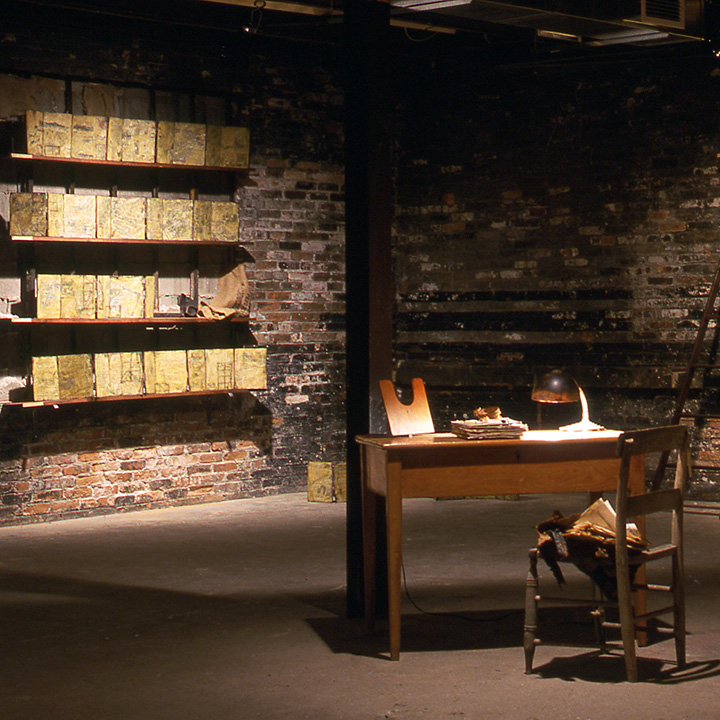 Ex Libris
2003
Ex Libris was a two-woman exhibition with Alisa Cunnington at Niagara Artists Company where we collaborated to transform the main space gallery into a library —a space of storage, collection and preservation.
Bookworks were created independently allowing us to explore our own thematic interpretations of memory. I addressed memory lost and experienced in four distinct, but related installations.
In Odes to Anatomies, a suite of eight altered anatomy texts depict individual medical histories to address memory lost and pay tribute to the ways in which our bodies accommodate, "rewire" and rejuvenate.
The Whole Real Moment is also aimed at challenging viewers to connect with memory while also acknowledging its weight. Comprised of a reading table etched with text and paper-works —sixteen years worth of lists stacked and fused together with beeswax— this piece explores the obsessiveness of memory and makes palpable its workings.
Inspired by many years of cooking in remote work sites, Dancing in a Northern Kitchen is a mixed media accordion bookwork comprised of seventeen units and shelves, that is at once mural, sculpture and cookbook.
In Things Conspiring to Tell the Whole Story, kitchen utensils, maps, spices, recipes, day and menu plans are organized into six wood-backed journals where accumulated memory is both preserved and lost under coats of beeswax.
Ex Libris was supported by the Ontario Arts Council.
Exhibition History:
Niagara Artist Company/Centre, St, Catharines, ON, 2003
Visual Arts Centre of Clarington, Bowmanville, ON, 2009
Odes to Anatomies: A Space Gallery, Toronto, 2004 and
Artsweek Peterborough, Peterborough, ON, 2006
Dancing in a Northern Kitchen: Rails End Gallery, Haliburton, ON, 2008
The Whole Real Moment: Art Gallery of Peterborough, Peterborough, ON, 2012
Photo Credits:Sandy Nicholson