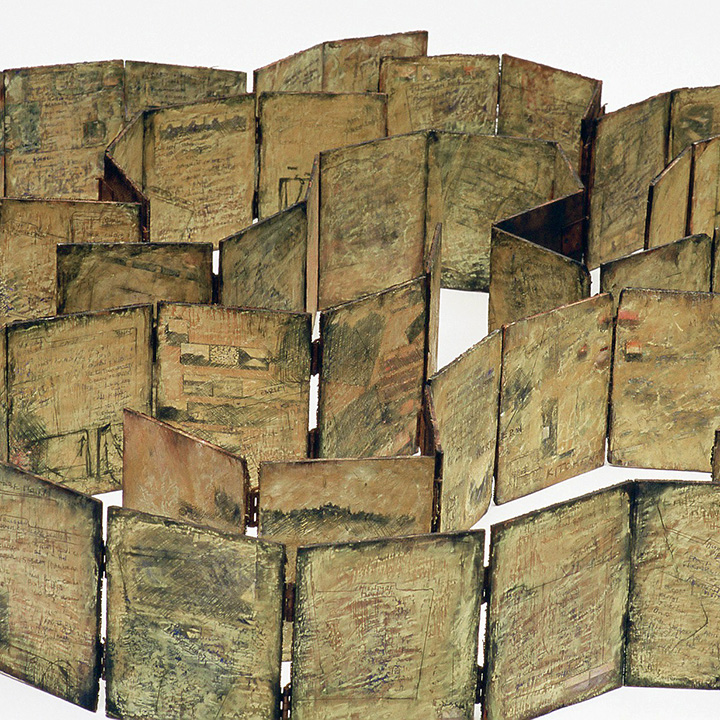 Chapter 1 – Getting There
Encaustic, oil stick, dry pigment, photographs and paper on hinged mahogany-ply panels backed with burlap and leather on a floating shelf
10″ x 72″
Private Collection

Chapter 2 – Breakfast
Encaustic, oil stick, dry pigment, photographs and paper on hinged mahogany-ply panels backed with burlap and leather on a floating shelf
10″ x 72″

Chapter 2a – Breakfast into Lunch
Encaustic, oil stick, dry pigment, photographs and paper on hinged mahogany-ply panels backed with burlap and leather on a floating shelf
10″ x 32″
Private Collection

Chapter 3 – Baking – Yeast Breads
Encaustic, oil stick, dry pigment, photographs and paper on hinged mahogany-ply panels backed with burlap and leather on a floating shelf
10″ x 72″
Chapter 3a– Baking – Quick Breads & Muffins
Encaustic, oil stick, dry pigment, photographs and paper on hinged mahogany-ply panels backed with burlap and leather on a floating shelf
10″ x 72″

Chapter 4 – Soups
Encaustic, oil stick, dry pigment, photographs and paper on hinged mahogany-ply panels backed with burlap and leather on a floating shelf
10″ x 72″

Chapter 5 – Salads
Encaustic, oil stick, dry pigment, photographs and paper on hinged mahogany-ply panels backed with burlap and leather on a floating shelf
10″ x 72″

Chapter 7 – Mains – Meat, Poultry & Fish
Encaustic, oil stick, dry pigment, photographs and paper on hinged mahogany-ply panels backed with burlap and leather on a floating shelf
10″ x 72″

Chapter 8 – Mains – Grains & Pasta
Encaustic, oil stick, dry pigment, photographs and paper on hinged mahogany-ply panels backed with burlap and leather on a floating shelf
10″ x 48″

Chapter 10 – Vegetarian Mains & Sides II
Encaustic, oil stick, dry pigment, photographs and paper on hinged mahogany-ply panels backed with burlap and leather on a floating shelf
10″ x 56″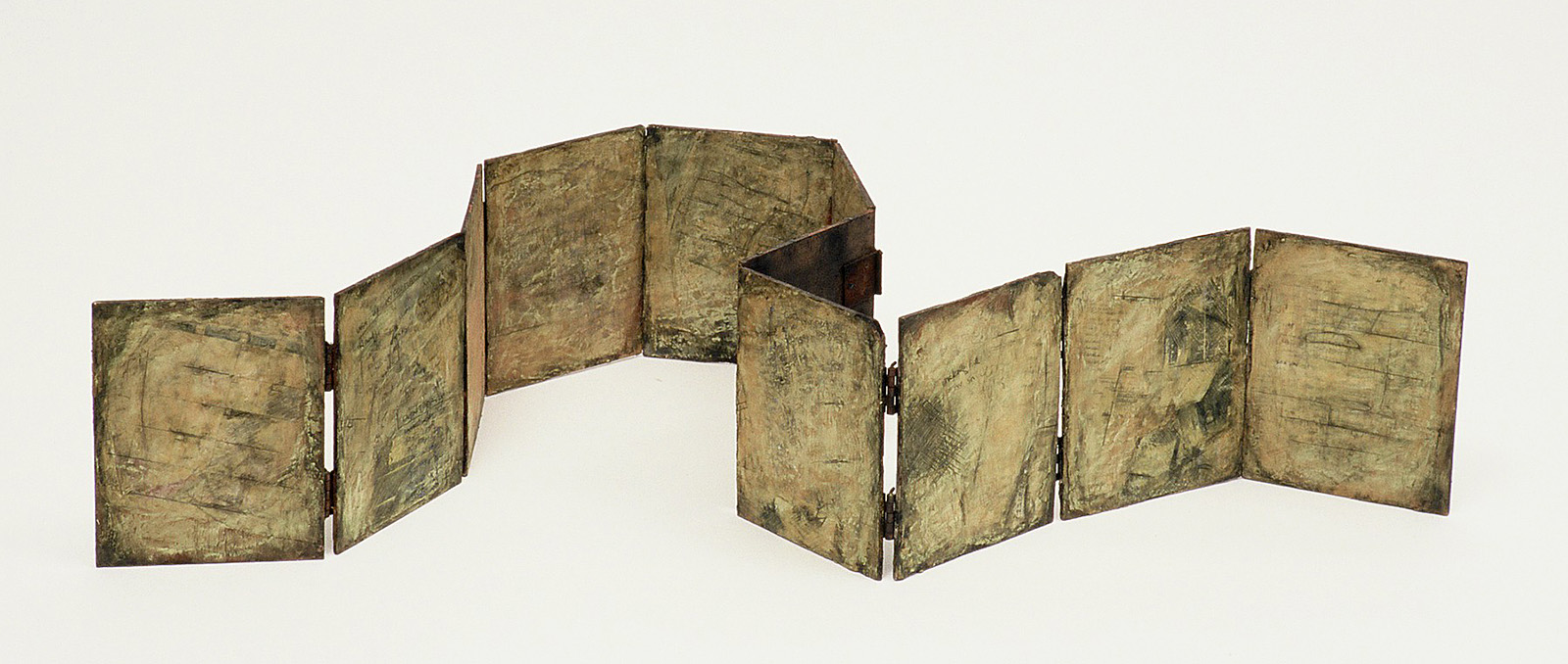 Chapter 13 – Menu Plans
Encaustic, oil stick, dry pigment, photographs and paper on hinged mahogany-ply panels backed with burlap and leather on a floating shelf
10″ x 88″
Dancing In a Northern Kitchen
1995-2003
17 mixed media bookworks —encaustic, oil stick, dry pigment, photographs and paper on hinged mahogany-ply panels backed with burlap and leather—on floating shelves
What can be rekindled by a smell, a taste or by the simple act of making?
Dancing in a Northern Kitchen was inspired by many seasons spent cooking for tree-planters in remote areas of Ontario, Alberta and British Columbia. Using the accordion bookwork form, I set out to examine the connections between cooking, art and dance. I also wanted to honour the layers of experience that are folded into the pages of a cookbook to suggest that time, place and people are as integral to recipes and good cooking as ingredients. In each piece, recipes and menu plans, dance steps, images and photographs are organized in chapters and layered in encaustic wax to bring to mind stories, reminiscences and rhythms of the everyday.
Exhibition History:
Niagara Artists Company/Centre, St Catharines, ON, 2003
Rails End Gallery and Arts Centre, Haliburton, ON, 2008
Visual Arts Centre of Clarington, Bowmanville, ON, 2009
Photo Credits: Wayne Eardley
Scroll down for images and descriptions of all pieces in this Series.